Stick your fork into a moist, freshly-baked Diane's Casserole. Our casseroles span a variety of tastes, so you'll be sure to find something you and your family will enjoy. From Mexican to Italian to home-cooked southern meals, Diane's casserole menu has got you covered.
Brunch Casserole – Everything you want for breakfast in one place! Eggs, bacon, sausage, bread and cheese. 
(GF) Mexican Cheesy Beef – Head south of the border and get your queso on.
Cheesy Turkey Pasta – Best turkey pasta any time of the year.
Italian Manicotti – What's three times better? Three cheese manicotti.
Beef Spaghetti – A comfort food special.
Chicken and Dumplings – Better than mom used to make … (sorry mom!)
(GF) Chicken and Wild Rice – A combination that can't be beat.
Chicken Pot Pie – See above: Chicken & Dumplings.
Chicken Enchiladas – We can't make enough of them, they're so good!
Chicken Spinach Lasagna – And you thought you could only make lasagna with beef!
(GF) Cheesy Rotel Chicken – Chicken and baked cheese. Doesn't get better! 

Beef Lasagna – We do beef, too! Try it for yourself. 
Eggplant Parmesan – Eggactly what you'd want for a change.
Shrimp and Artichoke Fettuccine – Artichoke and shrimp together: what could be better!
(GF) Mexican Chicken and Rice – Both your heart and stomach will be happy.
Chicken Parmesan Penne – Sure to put a smile on your face.
Chicken Spaghetti – Our take on a beloved classic!
Chicken Tetrazzini – Creamy perfection sure to please anyone.
(GF) Chicken Broccoli and Rice – Name a better trio. 
Chicken Dressing – You will want seconds!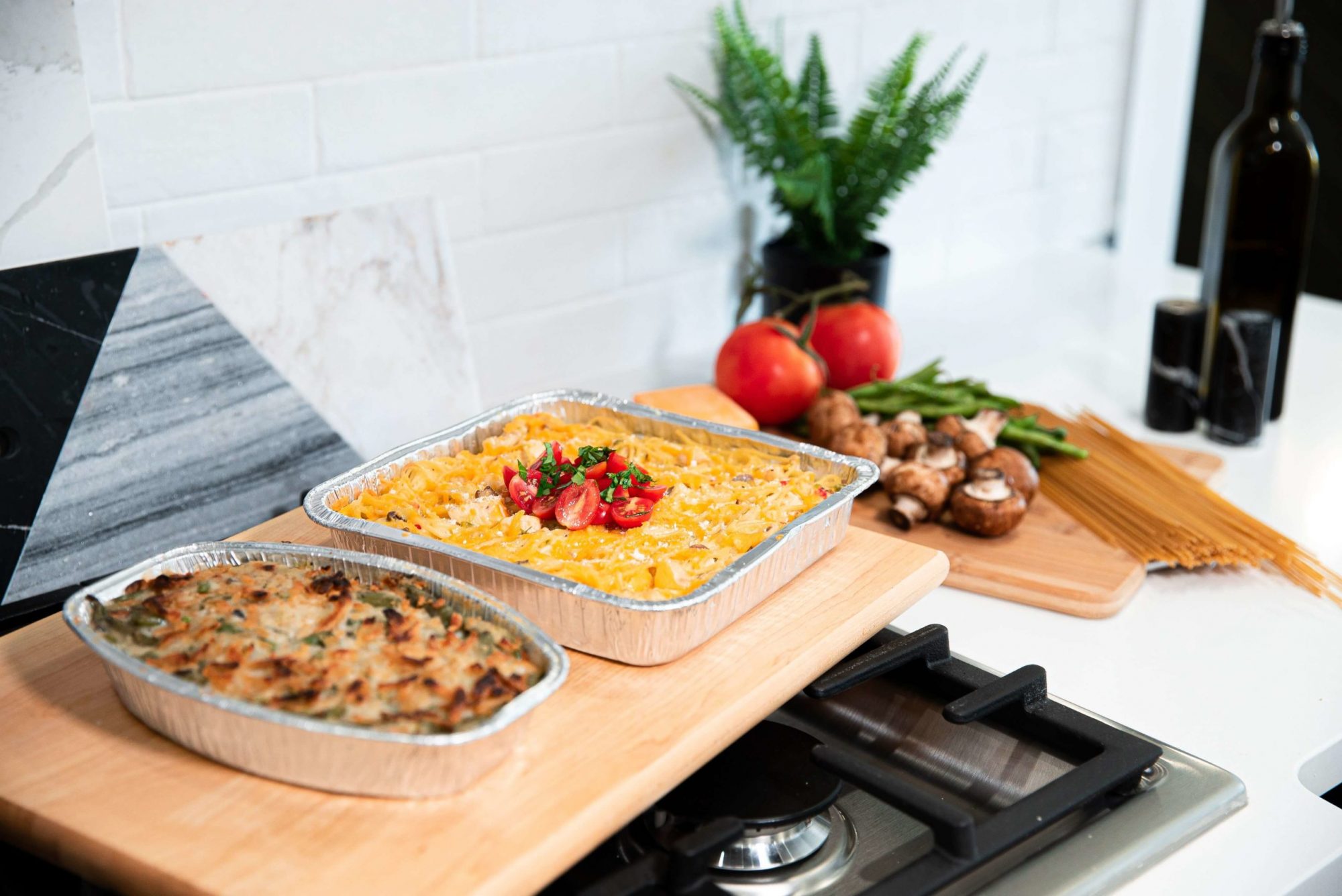 Vegetable Casseroles
Broccoli And Rice – George W. Bush never had our broccoli in this dish.
Cheese Grits – A southern classic.
Spinach Au Gratin – Another delicious way to eat your greens.
Macaroni and Cheese – Comfort food for almost anyone.
Au Gratin Potatoes – Au, come on! You've got to try these!
Green Bean Casserole – Just like your mama made.
Mexican Rice and Beans – A delicious take on a classic Mexican dish. 
(GF) Gluten Free is defined as a food not containing gluten, barley, wheat, rye, etc. Our gluten free items are carefully prepared to avoid these ingredients.