Diane's Casseroles
Stick your fork into a moist, freshly-baked Diane's Casserole. Our casseroles span a variety of tastes, so you'll be sure to find something you and your family will enjoy. From Mexican to Italian to home-cooked southern meals, Diane's casserole menu has got you covered.
(GF) Mexican Cheesy Beef – Head south of the border and get your queso on.
Cheesy Turkey Pasta – Best turkey pasta any time of the year.
Italian Manicotti – What's three times better? Three cheese manicotti.
Beef Spaghetti – A comfort food special.
Chicken and Dumplings – Better than mom used to make … (sorry mom!)
(GF) Chicken and Wild Rice – A combination that can't be beat.
Chicken Pot Pie – See above: Chicken & Dumplings.
Chicken Enchiladas – We can't make enough of them, they're so good!
Chicken Spinach Lasagna – And you thought you could only make lasagna with beef!
(GF) Cheesy Rotel Chicken – Chicken and baked cheese. Doesn't get better! 
Beef Lasagna – We do beef, too! Try it for yourself. 
Eggplant Parmesan – Eggactly what you'd want for a change.
Shrimp and Artichoke Fettuccine – Artichoke and shrimp together: what could be better!
(GF) Mexican Chicken and Rice – Both your heart and stomach will be happy.
Tuna Noodle Casserole – A traditional favorite.
Chicken Parmesan Penne – Sure to put a smile on your face.
Chicken Spaghetti – Our take on a beloved classic!
Chicken Tetrazzini – Creamy perfection sure to please anyone.
(GF) Chicken Broccoli and Rice – Name a better trio. 
Chicken Dressing – You will want seconds
Vegetable Casseroles
Broccoli And Rice – George W. Bush never had our broccoli in this dish.
Cheese Grits – A southern classic.
Spinach Au Gratin – Another delicious way to eat your greens.
Macaroni and Cheese – Comfort food for almost anyone.
Au Gratin Potatoes – Au, come on! You've got to try these!
Green Bean Casserole – Just like your mama made.
Mexican Rice and Beans – A delicious take on a classic Mexican dish.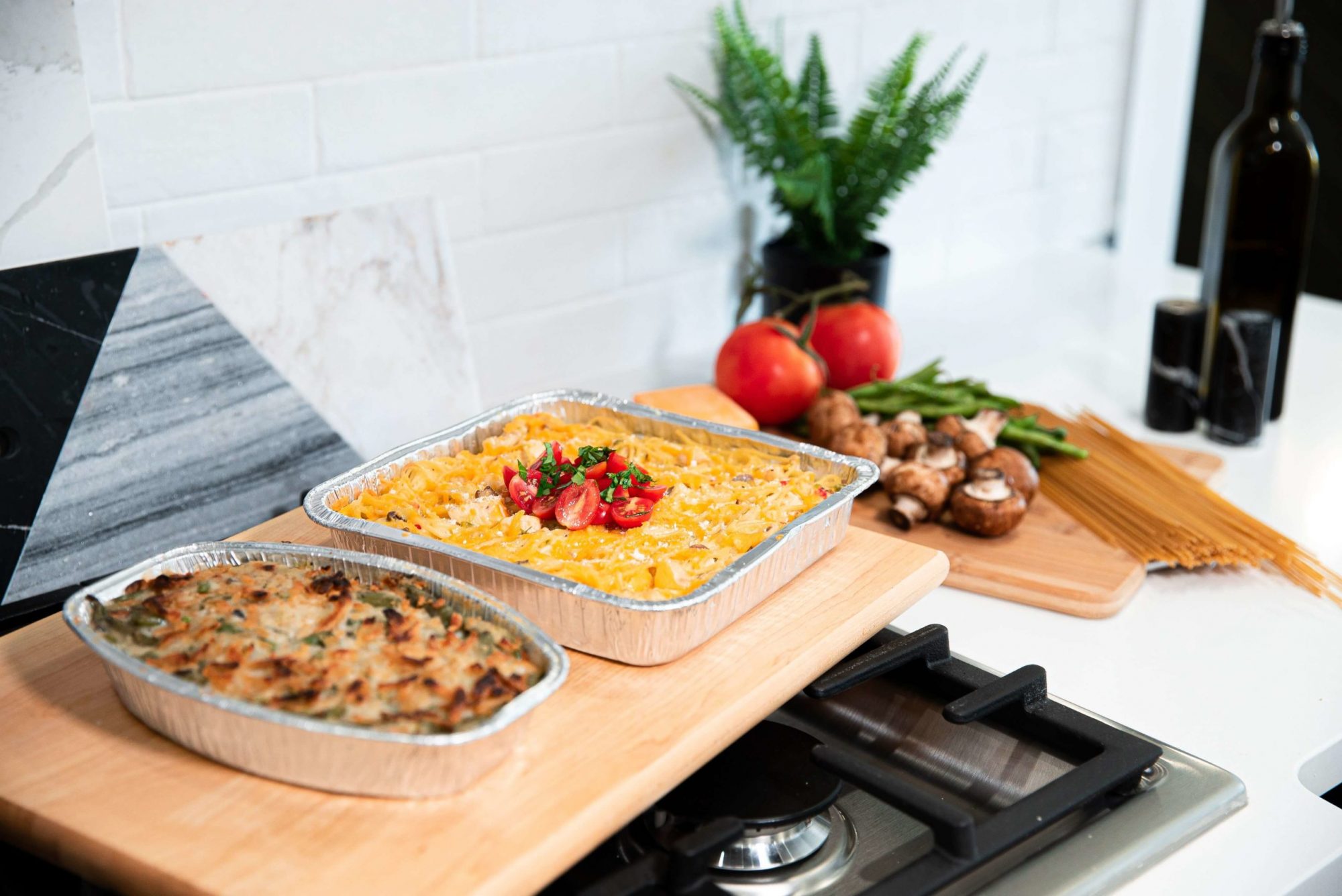 Homemade Soups
Whether you're warming yourself up on a particularly cold day or dreaming of cold weather returning, our soups will suit you well. Simmered for hours to soak in every ounce of flavor, these dishes will leave you with warm feelings both in your heart and your stomach.
(GF) Corn Chowder – A great American classic.
(GF) Cream of Potato – A baked potato in a bowl — what could be better?!
(GF) Tomato Basil – Simple yet so tasty.
(GF) Broccoli Cheese – Healthy AND cheesy? Name a better duo.
(GF) Tuscan Sirloin – A quality cut of meat simmering for hours with herbs and spices.
(GF) Fresh Vegetable – Straight from the garden to your table.
Chicken Noodle – Not just for sick days.
(GF) Chicken And Wild Rice – Nothing too wild here — except the amount of flavor on your taste buds.
(GF) Fresh Mushroom – Found the mushrooms growing right behind the kitchen. Just kidding. But they are fresh.
Chicken Tortilla – Better than anything you'll find in Texas.
(GF) White Bean Chicken Chili – See above.
(GF) Clam Chowder – Creamy, delicious, and full of flavor.
(GF) Smoked Ham And Bean – As southern as a soup can be.
(GF) Gazpacho (Seasonal) – Best soup for a warm day.
(GF) Beef Chili with Beans – There's no way you can be chilly when you're eating chili.
(GF) Vegetable Beef – Another classic soup — goes well with any dish.
(GF) Chicken Lemon and Rice – When life gives you lemons, you make soup.
Beef Stew – A hearty, filling dish that will warm you right up.
(GF) Italian Peasant – A hearty soup with loads of flavor. 
(GF) Butternut Squash – The perfect fall soup, but you'll want this year round. 
(GF) Pumpkin and Apple – Don't knock it 'til you've tried it!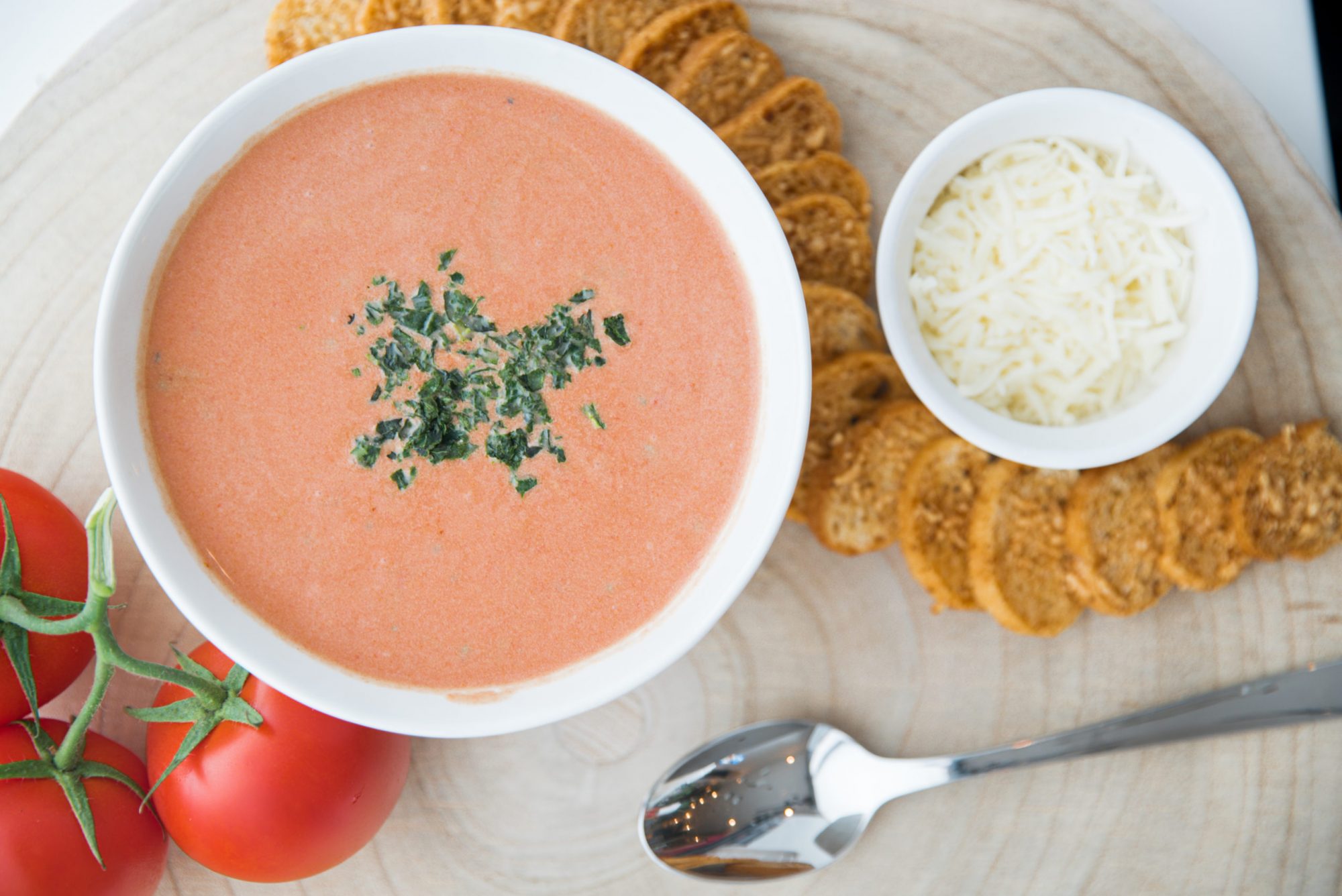 Entrees and Salads
Nestled in the back of the store is our daily selection of fresh-made entrees and salads. Choose what and how much you want, bag it up, take it home and be the fresh food hero of the day.
Entrees
Pork Tenderloin –  Perfectly seasoned, tenderly cooked. A family favorite.
Crab Cakes – Spice up your dinner with this coastal favorite.
Salmon Filets – Leaping from the stream to your dinner table.
Meat Loaf – Gone are the days of boring meat loaf. Diane's recipe is one of the best you'll try.
Chicken Breasts – Lean, healthy and tasty. A consistent favorite in our store.
Quiche – Pie for dinner! The kids will be elated.
Daily Specials — Call ahead at 501-224-2639  to find out what we're serving today!
Salads
Fresh Garden Salad – Keep it light, or add shrimp, tuna or chicken.
Shrimp – Better than Bubba's recipe
Tuna

– A combination of tuna, mayo, and all that tuna lovers enjoy

Chicken – Lightly combined with tasty spices to please the palate
Pasta – A light, tasty combination of pasta and vinaigrette
Fresh Fruit – You can't have enough AND it's good for you!
Pimento Cheese – Our most popular offering in the salad section.
Egg and Olive – Unique and tasty.
Daily Specials – Call ahead at 501-224-2639 to find out what we're serving today!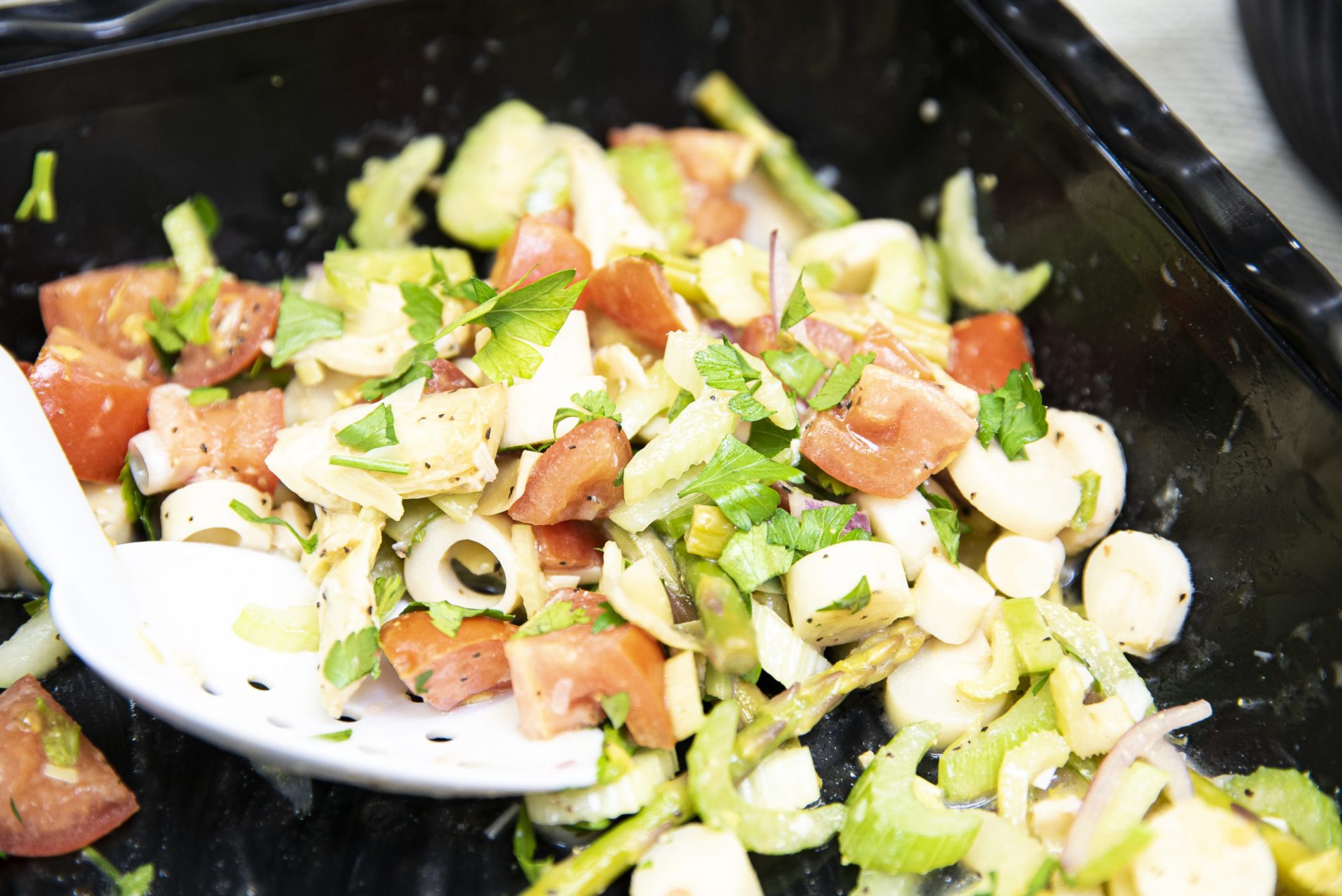 Veggies
Roasted Fresh Vegetables – Seasonal favorites, as you would expect.
Twice Baked Potatoes – A quick treat to heat and eat. Delicious!
Green Beans Almondine – A customer favorite! 

(GF) Gluten Free is defined as a food not containing gluten, barley, wheat, rye, etc. Our gluten free items are carefully prepared to avoid these ingredients.